It's a little tricky to predict your Ludum Dare game results.  I can usually ball-park it, but even they are way off sometimes.  For example, I thought my LD28 entry, Sixteen in One, and my LD31st entry, The Reaping, would place around 150.  Sixteen in One ended up getting 38th, while The Reaping got 409th, so there's a huge margin of error.  Many factors, some obvious, and some not so obvious, contribute to the way people rate your game, and how you ultimately rank, but that's a topic worthy of its own post.
When someone asked me how I thought my Ludum Dare 33 entry would do, I'd say something like:
"Pretty good,  I'm guessing it will get in the top 100"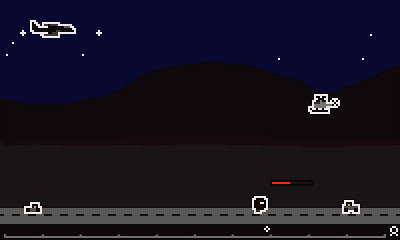 If I had to be more specific, I'd guess that Earth Was a Bad Choice would rank somewhere around 40 or 50.  The game came together quite nicely. The simple graphics look good, the gameplay is fun, and it may be my most polished LD game to date.
Results were revealed on Monday, September 14th.  I was completely beat from waking up at 3:30AM, flying to Austin, and working for 6 hours.  I had finally gotten to my hotel room, and was talking to my girlfriend, eagerly waiting to see the results. At 9:00PM that night, after 3 weeks of waiting, the Ludum Dare 33 results were finally posted.
There are a few ways to view results. You can go to any game's page to see it's ranking and score in each category.  There's a page showing the highest scoring 25 games in each category, and there are also separate pages showing the highest 100 scoring games in each category.  Out of all the categories that Ludum Dare games are judged in, the "Overall" category is the most prestigious.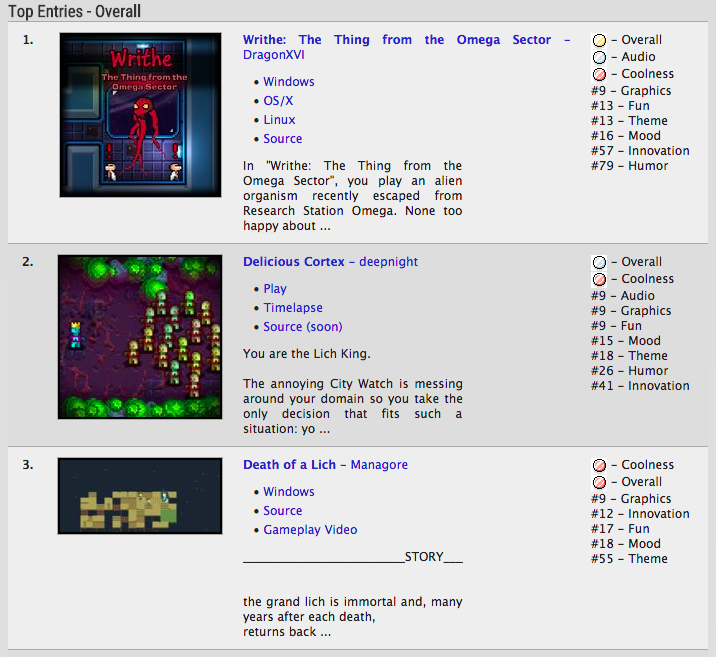 There's a little ritual I go through each Ludum Dare ever since my 3rd LD.  When the results are posted, I go to the page listing the top 100 overall games, and scroll down hoping to see my game somewhere.  It happened in three of my first nine Ludum Dares, and I was hoping for a fourth.  The page loaded, and the top three games (or more so their creators) were no surprise.  Certain people consistently make great games that always rank well.
I began scrolling down the page, thinking if my game were in this list, it had to be much further down.  

Almost immediately, I saw a very familiar image; a screenshot from my game.  My tired eyes widened.  I was still on the phone with my girlfriend, and said something like:
"Holy shit… my game got 4th"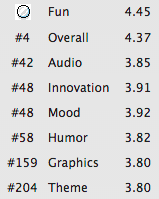 Out of a pool of 1199 games, my game was ranked 4th overall, and 2nd in the "fun" category.  It's amazing to think how far I've come since I started making games 3 years ago, and after 10 Ludum Dare's, I'm pretty content with 4th place.  However, I'm already counting down the days until LD34.  I may never exceed my LD33 scores, and that's OK, but I promise it won't be from lack of trying.
Posted on September 18th, 2015